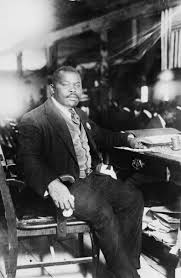 by Byungkun Kim
Exclusion. In the context of liberal democracy that I am used to think in, the word is associated with neo-Nazis, fantasies of racial purity, hatred of those who are 'different', everything that I do not wish to be associated with. In the same vein I had read Marcus Garvey this past winter, and in the same vein I formed my critique of their ideas of separation. I wrote off Garvey's arguments for the "Racial Empire" as the same exclusionary project that I defined myself against and wrote Garvey himself off as a product of his time at best, and an instigator of a different kind of hierarchy at the worst. There. Lingering feelings of discomfort or dissonance aside, I moved on.
What I wish to do here is to revisit my own definition of Marcus Garvey's exclusion and do justice to my own interaction with Garvey's writing, particularly through the insights from the writings of contemporary Indigenous American (Dene) theorist Glen Coulthard and Indigenous American (Mohawk) anthropologist Audra Simpson. This is not intended as an indictment of Marcus Garvey's ideas. Rather, I wish to explore the way I had read Garvey at first, and through that examine the deeper notions that I took for granted – justice not only in how I feel about Garvey's ideas, but also justice in how I read and interact with his texts a Century later.
Marcus Garvey
For the purposes of our discussion, the class read together Garvey's African Fundamentalismand If You Believe the Negro Has a Soul. In both of these texts, Garvey advocates for an independent Africa, made up of black Africans and black Africans only, and the return of the displaced descendants of slave trade to Africa. His call for unity quaAfrican is notable because it is firmly connected to the claim of "Racial Empire", under which there is no "clime, boundary, or nationality." This idea of "Racial Empire" is at once a descriptive and aspirational claim: "Racial Empire" of black people around the world is bound by the common descriptor of blackness (in "being first and always a Negro") with common goal and aim of the future arising from the shared characteristic of blackness ("Africa, at home and abroad" and "building a nation of his own on the great continent of Africa"). It is notable that this claim of blackness is also made from a territorial perspective as well, as Africans, according to Garvey, must build the nation of Africans in the continent of Africa. "Return to Africa" for Garvey is a very literal claim of physical relocation back to Africa and a creation of racial state.
Exclusion in Garvey's ideas likewise follows this outline in being descriptive and aspirational claim in itself. Unlike Du Bois, who sees the African American as a fellow part of the American project, Garvey seems to see the Africans around the world as being excluded from the countries in which they live. His invocation of the "England for the Englishman" and "France for Frenchman" paves the way for his rallying cry of "Africa for the Africans" as a reaction to the world that ostracizes Africans already, and his call to "Return to Africa" is in that sense a claim to a territory away from the territorial exclusion that the Africans face. The future that Garvey imagines is necessarily African precisely because Garvey sees the world as being divided by racial hierarchy, and his idea of "Racial Hierarchy" and "Racial Empire" for Africans is a call to establish their own value and integrity against the other systems of hierarchy and empire that seek to subjugate them.
Recognition and Indigenous Response
Such ideas of separation fly in the face of liberal democracy and its claim to multiculturalism, which seems to be the primary motivation behind my discomfort with Garvey's ideas. But to truly give justice to Garvey's arguments, Garvey's ideas of separation and the demand for inclusion must be read against their contexts in history and power; in other words, who demands inclusion, and for what purpose? This reading, I think, benefits from the critique of multiculturalism and 'politics of recognition' in the context of Canada, offered by the Indigenous American (Dene) theorist Glen Coulthard.
Coulthard's argument stands in opposition to an influential essay written by Canadian theorist Charles Taylor, the Politics of Recognition. In this essay, Taylor (using Hegel's formulation of recognition) argues that recognition is a "vital human need" and extrapolates that statement to argue that cultural differences of minority groups must be recognized byliberal society as equally valid and accepted, since the mis-recognition of that difference may cause harm to the group's sense of identity and authenticity. This 'politics of recognition' has went on to form the foundational mode of interaction between the liberal state and its minorities, and because of that it may in some ways be taken for granted by those who live within that system, notably like myself.
Glen Coulthard's argument against the 'politics of recognition' starts by pointing out that although recognition is very much important for individual contexts, extrapolating that to justify the recognition of individual groups bythe society is a non sequiturargument. But more importantly for the purposes of this account, Coulthard calls attention to the history of dispossession that the 'politics of recognition' does not address, and indeed helps to mask. Taylor's account of the 'politics of recognition' is at once very modern and ahistoric: while Taylor recognizes that the struggle for individual identity is a very modern creation, his arguments for the 'politics of recognition' only focuses on the current status of the minorities within the state, not how the minorities got to be minorities in the state itself. This, in the settler-colonial context of Canada and United States, means that the history of dispossession and genocide against the Indigenous Americans is glossed over with their status as 'cultural minorities' within the liberal state.
In that sense, 'politics of recognition' is not a solution for the fundamental violence of the settler-colonialist state: it is rather a continuation of violent integration (and erasure) of Indigenous Americans according to the logic of colonialism. Audra Simpson, a Mohawk anthropologist, describes the response of Indigenous Americans as 'politics of refusal', of refusing to be integrated into the American settler-colonialist state and making a firm claim on Mohawk sovereignty. Such moments of refusal, Simpson contends, 'interrupt' the founding stories told by the settler-colonialist state: at the very least, refusal to be integrated into a liberal democratic state as a recognized member of minority group interrupts the ahistoricization of the state violence perpetuated by the claims of recognition and keep alive the historical violence and its legacy in today's situation.
Crossroads of Recognition and Acceptance
Can this 'politics of refusal' be applied to give a better understanding of Garvey's arguments for today's reader? We have seen that Garvey's argument is a strident rejection of any claims toward integration, and that this argument operates upon the recognition that black Americans never chose to be a part of United States and will never be a part of the United States. Contrast comes from the writings of W.E.B. Du Bois, who was a contemporary of Garvey and an advocate of education as the means of empowerment for black Americans. Du Bois is notable because his solution to the problem of 'double consciousness', where the black American is split between their self and the devaluation of one's self by the society, is the merger of the two selves into a coherent and authentic whole for reintegration intothe world, rather than separation therefrom. The ideal black American of Du Bois is someone who retains their grip on the two worlds of Africa and America, a "co-worker in the kingdom of culture" through their education in the arts of humanity. Note the choice of the word "co-worker": for Du Bois, the black folk must be a participant in the ongoing project of humanity as its willing participants, and integration into United States is the way to do so.
This view toward integration is explicitly rejected by Garvey in his essay African Fundamentalism. Garvey makes it clear that the black folk should not seek to 'worship' others, but rather should forge their own traditions and future. This is not merely a call for affirmation of black tradition or excellence; it is rather a rejection of the worldview, exemplified in his period by Du Bois, of a universal human tradition and future. For Garvey, that symbolizes submission of the African to the European domination, since Garvey explicitly racializes that tradition to be white, not black. Thus Garvey's answer to this follows his definition of the problem by racializing the new tradition and future for Africans: the exclusion of others that I found to be so disturbing, it seems, is a reaction against the world that already ostracized the African.
Now I am back to the original question of 'how to read Garvey with the benefit of hindsight', not how to indict Garvey against the standards of today, but to learn from him. For one, I know now that Garvey was rather popular with the segregationists and white supremacists of his era, since his views of 'back to Africa' found unlikely bedfellows with those who could not stand to see the black folk on the streets. That by itself shouldn't be a problem, but another benefit of hindsight is that I can see the dream of great Africa was never realized as Garvey imagined, but that segregation and white supremacy had endured. With the triumph of the Civil Rights Era, black Americans now can ostensibly enjoy the same statue of 'American' by participating in the great American economy. The world sings praises of Africa's untapped potential. Black folk are accepted members of the society, and their merits are recognized by the society as such.
But even though Marcus Garvey spoke to a wildly different set of contexts compared to today, his argument still interrupts the implicit assumptions that I took for granted in this point of view. Garvey's call for exclusion excavates the historic injustices that created the conditions of today and questions the unexamined belief that everyone mustseek integration into the multicultural society. My visceral reaction to Garvey's claim of the world being organized into "separate race groups" betrays the deeper insecurity on the question of whether the society that I imagine is truly value-free as I wish to see, and my knee-jerk denunciation of Garvey's argument seems to be motivated by the imperative to protect the idea of integration. That I defaulted to such a reaction even though I had my qualms about the question of integration seems to demonstrate the overwhelming power of the doctrine of integration within liberal democracy.
References
Coulthard, G. S. (2017). Red skin, white masks: Rejecting the colonial politics of        recognition. Minneapolis, MN: University of Minnesota Press.
Du Bois, W., & Edwards, B. (2007). The Souls of Black Folk (Oxford world's classics (Oxford University Press)). Oxford [England] ; New York: Oxford University Press.
Garvey, M. M. (1925). African fundamentalism. Negro World, 6.
Garvey, M. (1921). If You Believe the Negro Has a Soul.
Simpson, A. (2014). Mohawk interruptus: Political life across the borders of settler states.      Durham: Duke University Press. Kindle Edition